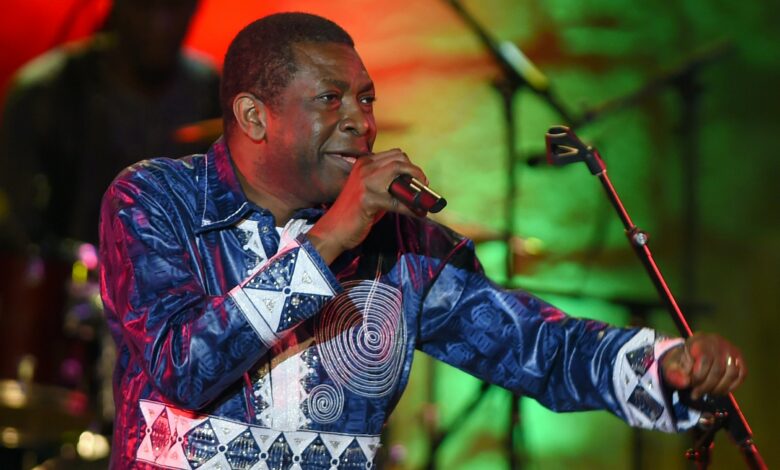 Are you curious to know who are the leading richest musicians in Africa? Read down for more details. The rate at which African music is developing is amazing. African musicians have released a lot of awesome songs over the years, all of which are played throughout Africa and beyond. Also, these songs have brought huge sums of money to the singers and fame, among other benefits. Within this article, you will see the top 10 richest musicians in Africa. Let's read down.
Africa | The Top 10 Richest Musicians
Below here is a list of the top 10 richest musicians in Africa:
1. Youssou N'Dour
Youssou N'Dour with a net worth of $145 and tops the list of the richest musicians in Africa. He is a Senegalese singer, musician, composer, songwriter, actor, politician, and businessman. Youssou is well-known for his amazing vocal range and 'mbalax' – a Senegalese popular music style.
Besides, Youssou was declared the most famous singer alive in Senegal by Rolling Stone Magazine. Youssou began his music career in 1972 when he was 13 years. Over the years, he has worked with several music stars including Papa Samba Diop, who is well-known as Mba.
2. Akon
With a cash flow of $80 million, Akon ranks 2nd out of the top 10 richest musicians in Africa. Akon is a singer, record producer, songwriter, and entrepreneur. He became famous in the music industry after releasing his debut album 'Trouble', among other albums. Aside from his album sales, he has earned several endorsement deals, investments, etc.
3. Black Coffee
Nkosinathi Innocent Sizwe Maphumulo, also known as Black Coffee is the 3rd richest musician in Africa. He has a cash flow of $60 million. Black Coffee is a South African singer, musician, record producer, DJ, and songwriter. He began his music career at the Durban University of Technology before becoming a backup singer for Madala Kunene, a South African musician. Since then, Black Coffee has released over 9 studio albums, etc.
4. Wizkid
Wizkid also falls among the leading 10 richest musicians in Africa with a growing total asset of $30 million. He is popularly known in the Afrobeat community, among other music genres. Wizkid began his musical career in 2009 in Empire Mates Entertainment Records (E.M.E) founded by Banky W. He became famous after he dropped his debut album 'Superstar' in 2011 which carried the hit track 'Holla at Your Boy'. Besides singing, Wizkid has earned money from diverse endorsement deals with GLO, MTN Nigeria, UBA, etc.
5. Davido
David Adeleke, well-known as Wizkid is a rich Nigerian musician in Africa with an estimated cash flow of 19 million U.S dollars. Wizkid is well-known as the highest-earning star on Instagram in Africa. He stages in both local and international shows which earns him a huge amount of money.
6. Asa
Asa ranks 6th position on the list of the leading 10 richest musicians in Africa. She is a Nigerian/French singer, performer, recording artist, and songwriter with a cash flow of $28 million.
Asa launched her music career in Paris where she released several albums featuring legendary musicians including Fela Kuti, Bob Marley, Marvin Gaye, Diana Ross, and Miriam Makeba, among others.
7. Don Jazzy
Don Jazzy is the stage name for Collins Michael Ajereh. He has a growing total asset of $18 million. Don began his music career via a partnership with D'banj to release hit tracks as a team, 'Mo'hits'. After this partnership, Don created his record label, 'Mavins Records Label'.
Besides, Don Jazzy is an entrepreneur and producer. He introduced the female musician, 'Ayra Starr' to the music industry.
8. Burna Boy
Burna Boy is a Nigerian singer, songwriter, rapper, and dancer with $17 million as his growing total asset. His real name is Damini Ebunoluwa Ogulu while Burna Boy is his stage name. Burna Boy began his career in music and became popular in 2012 when he launched his hit track 'Like to Party' from the album L.I.F.E, among other albums. Also, he has received several awards including the Grammy Awards, etc.
9. 2Face Idibia
2Face Idibia is among the richest musicians in Africa with a net worth of $16.5 million. He remains one of the most INFLUENTIAL Nigerian artists. 2Face Idibia has earned so much music money from his music career including awards like MTV Music Awards, Headies, and BET Awards, etc.
10. Rude Boy
Paul Okoye popularly known as 'Rudeboy' falls last on the top 10 richest musicians in Africa having a growing total asset of $16 million. He started his music career singing in school shows with his twin brother, Peter Okoye (P – Square) while attending music school. Paul Okoye had released 6 albums with his brother before they parted due to a quarrel. After parting, Rudeboy released several hit tracks that made him very popular like Reason With Me, Fire Fire, Nkenji Keke, etc.
Frequently Asked Questions
Who are the Biggest African Artists in 2022?
Here are 8 names of incredibly famous and big African artists who have impacted world music greatly with their unique and charming musical qualities:
Burna Boy – Nigeria
Davido – Nigeria
DJ Black Cofee – South Africa
Youssou N'Dour – Senegal
Tu Baba – Nigeria
Sarkodie – Ghana
Tiwa Savage – Nigeria
Diamond Platnumz – Tanzania
Who is the Richest Musician in Africa Today?
The top spot on the rankings belongs to Youssou N'Dour. In 2022, he is the richest musician in Africa. His astounding net worth of $145 million was accumulated through the use of his distinctive voice and the popularization of the well-known Senegalese music genre known as mbalax.
Who is the Richest Musician in 2022?
Kanye West. The record for the richest musician in the world in 2022 is held by Kanye West who has accumulated his huge wealth through music, real estate, and brand endorsement. He is one of the richest singers in the world. His music records have alone sold over 160 million copies and he is the winner of 24 Grammy Awards.
Who are the Top 10 Richest Musicians in Nigeria in 2022?
These are the top 10 Wealthiest/Richest Musicians in Nigeria:
WizKid: Net worth $21 Million
Davido: Net worth $19.5 Million
Don Jazzy: Net worth $18.5 million
Burna Boy: Net worth $17 million
2Baba: Net worth $16 million
Olamide: Net worth $12 million
D'banj: Net worth $11 million
Phyno: Net worth $11 million
Conclusion
Music in Africa has evolved massively and is filled with diverse genres like Fuji, Afrobeat, Highlife, Kizomba, Makossa, and Amapiano, among other genres. Check out the article above to see the top 10 richest musicians in Africa that have created a lot of impact in the African music industry.
Best regards!