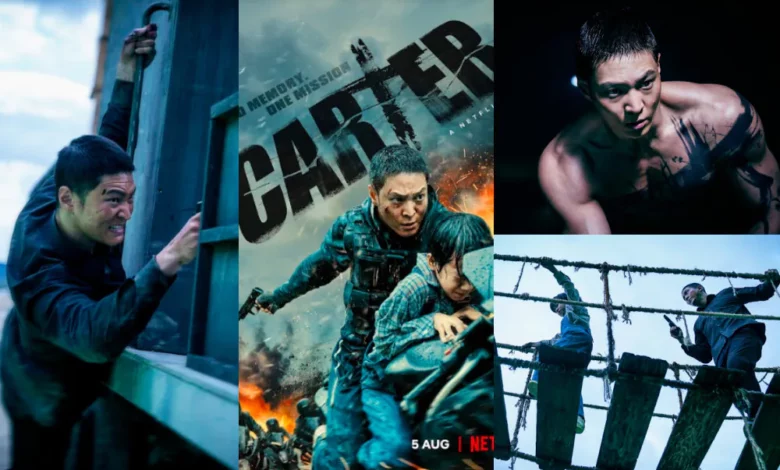 Netflix is an online service that provides a large selection of well-rated TV series, films, animation, documentaries, and more. Every week, month, and year, Netflix feeds its viewers/fans with highly rated movies, series, and others. In this article, I highlight the top 10 action movies on Netflix in 2022. Check out for more details.
Action Movies on Netflix | Leading 10 in 2022
This is a highlight of the top 10 action movies on Netflix in 2022:
1. Carter
In this movie, a man wakes up in a motel room and finds himself in the company of a group of foreigners. When he is assigned to a lifelong assignment, his life is turned around. Joo Won (the star of Bridal Mask and Good Doctor), Lee Sung Jae, and Kim Bo Min are among the South Korean movie stars who starred in this film. Carter is the latest and trending among the numerous movies on Netflix in 2022.
2. Day Shift
Day Shift ranks second among the top 10 action movies on Netflix in 2022. The movie tells about a diligent, blue-collar father who only wants to provide his quick-witted 10-year-old daughter with a happy life. His menial pool cleaning work in the San Fernando Valley is his main source of income, which is stalking and killing vampires.
Bud Jablonski (Jamie Foxx) is a pool cleaner who has a strange second gig as a vampire hunter. At a property where he reportedly gets hired to clean the pool, he kills an older female and a young vampire, harvesting their fangs as if they were valuable commodities.
Also, Audrey San Fernando (Karla Souza), who is also shown to be a vampire, claims to have "huge plans" for the Los Angeles region and its vampire population. He is seen torturing a lower-level criminal vampire named Sasha. She is revealed to be a wealthy and significant real estate entrepreneur when the camera moves to a sign by a construction project.
3. The Pirates: The Last Royal Treasure
The Pirates: The Last Royal Treasure comes in 3rd among the top 10 action movies on Netflix in 2022. This is a sequel/remake of the 2014 film. A presumptive "good bandit" and his troop are trapped in the middle of the ocean when captain Hae-rang and her crew arrive to save them. When they discover a map of a missing royal treasure and decide to find it, the two groups come together to establish an alliance.
Kang Ha-Seul and Han Hyo-Joo star in Kim Jeong-2022 hoon's South Korean historical adventure are the directors of The Pirates: The Last Royal Treasure. This movie follows the exploits of a group of pirates as they assemble in the sea to look for lost royal jewels.
4. Fullmetal Alchemist the Revenger of Scar
In this movie, when a mysterious figure begins to target State Alchemists for their transgressions against God, Alchemist Edward Elric and his brother Alphonse are most at risk. At the same time, the homunculi start to reappear. The Elric brothers face up against their most challenging foe to date: a lone serial murderer with a prominent forehead scar. They discover several sinister secrets about some of their fellow alchemists as they work to capture him.
5. Restless
Restless is also among the top 10 action movies on Netflix in 2022. This movie features top stars like Regis Blondeau, Simon Abkarian, and Michael Abiteboul. Restless is a French action thriller written by Regis Blondeau and Julien Colombani. It is based on Kim Seong-A hun's Hard Day, a 2014 South Korean movie. A crooked police officer's life spirals out of control after going to great lengths to conceal an accident when he starts receiving threats from an enigmatic witness.
6. Interceptor
Interceptor is another trending action movie on Netflix in 2022. This movie is an action drama movie directed by Matthew Reilly and co-written with Stuart Beattie. The top stars in Interceptor are Luke Bracey and Elsa Pataky. It concerns terrorists who intend to use stolen missiles to carry out a nuclear strike on the United States. An officer (Pataky) defends the facility with bravery and ingenuity as the terrorists attack a distant offshore missile interceptor station that could halt their missiles.
7. Fistful of Vengeance
Fistful of Vengeance ranks 7th place among the top 10 action movies on Netflix in 2022. This action movie is an American supernatural action thriller written by Cameron Litvack, Jessica Chou, and Yalun Tu and directed by Roel Reine in 2022. Fistful of Vengeance displays the pursuit of a murderer by Kai, a competent assassin, in Bangkok resulting in a war to protect the globe from an ancient threat.
Fistful of Vengeance stars Iko Uwais, Lewis Tan, JuJu Chan, Pearl Thusi, Lawrence Kao, Francesca Corney, Jason Tobin, Ratha Phongam, and Simon Kuke. The movie is a continuation of the television series, Wu Assassins' first season.
8. The Gray Man
The Gray Man is a 2022 American action movie directed by Anthony and Joe Russo. It is based on the 2009 Mark Greaney novel of the same name, which is co-written with Christopher Markus and Stephen McFeely. In addition to Billy Bob Thornton and Alfre Woodard, the movie also stars Ryan Gosling, Chris Evans, Ana de Armas, Jessica Henwick, Rege-Jean Page, Wagner Moura, Julia Butters, etc. The Gray Man is produced by the Russo brothers' production firm.
The Gray Man is the first movie in a series based on Greaney's Gray Man novels. The main character of the movie is CIA Agent "Sierra Six," who after learning dishonest information about his superior is on the run from sociopathic ex-CIA Agent and mercenary Lloyd Hansen.
9. Black Crab
The Black Crab is also among the top 10 action movies on Netflix in 2022. This movie is a Swedish action thriller, written by Adam Berg and Pelle Radstrom, and directed by Adam Berg. The main actors in the Black Crab are Dar Salim, Noomi Rapace, and Aliette Opheim. The Black Crab movie tells about Rapace, a speed skater who is recruited to a team of soldiers. This group of soldiers embarks on a dangerous mission to skate across sea ice behind enemy lines. The mission involves bringing in a secret package to an island research base that could end the war.
10. EK Villian Returns
EK Villian Returns ranks 10th place among the top 10 action movies on Netflix in 2022. The movie is an Indian Hindi-language psychological thriller movie that was written and directed by Mohit Suri. EK Villian Returns is a spiritual sequel to his 2014 film Ek Villain. The top stars in the EK Villian Returns are John Abraham, Tara Sutaria, Disha Patani, and Arjun Kapoor. EK Villian Returns gives an account of two guys in one-sided love. Who the hero and villain are depended on the pathways they take to complete their love stories.
Frequently Asked Questions
What is the Watched Thing on Netflix in 2022?
As of October 2022, the most popular English-language Netflix TV show of all time was the fourth season of the American science-fiction series "Stranger Things," based on several hours viewed in the show's first 28 days on the platform. It counted over 1.3 billion hours viewed.
What are the Best Action Movies on Netflix in 2022?
These are the best and most heart-pounding action movies on Netflix:
Army of the Dead (2021)
Extraction (2020)
The Sleepover (2020)
Project Power (2020)
Collateral (2004)
Triple Frontier (2019)
The Old Guard (2020)
Star Trek (2009)
What are the Latest Action Movies in 2022?
These are the top 8 latest action movies in 2022:
Bullet Train (2022)
Black Adam (2022)
Top Gun: Maverick (2022)
The Woman King (2022)
Thor: Love and Thunder (2022)
Black Panther: Wakanda Forever (2022)
Lou (I) (2022)
Everything Everywhere All at Once (2022)
What is Coming Out on Netflix in 2022?
These are the top English-language Netflix originals coming in December 2022:
Firefly Lane (Season 2 – Part 1) Coming to Netflix: December 2nd
Scrooge: A Christmas Carol
Lady Chatterley's Lover
Guillermo Del Toro's Pinocchio
Paradise PD (Season 4)
The Recruit
The Volcano: Rescue from Whakaari
Emily in Paris (Season 3)
Conclusion
There are several websites to get highly-rated movies, animations, and many others. Netflix is one of those famous websites that showcase highly-rated action movies and many others. Simply go through the article above to see the top 10 action movies on Netflix in 2022.
Best wishes!