People
Erling Haaland Net Worth, Biography, Goals, & Highlights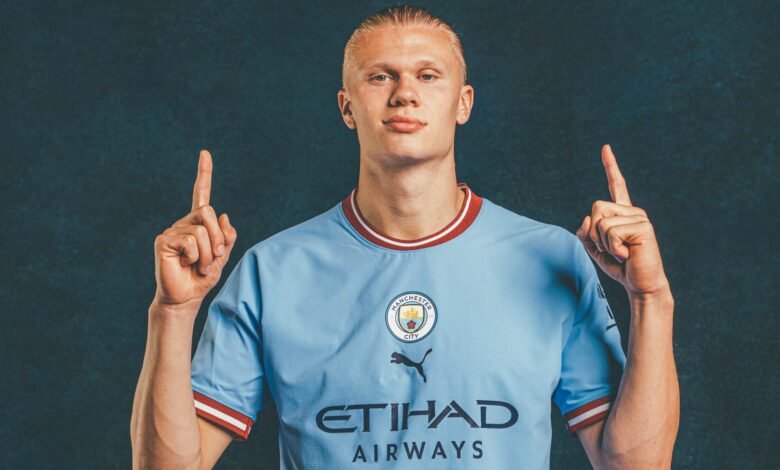 Erling Haaland, popularly known as a striker in Manchester City, is a Norwegian professional footballer. He does not only play for the popular premier league club, Manchester City but also plays for the Norway national team. He is considered one of the best Footballers in the world, as he is known for great speed, athleticism, and skillful finishing. He plays number 9 in Manchester City and has, over the years, earned a lot of recognition and awards.
Erling Haaland Networth and Salary
Erling Haaland's estimated net worth is $ 12 million, with a weekly salary of $700,000. He earns majorly from playing football and football endorsement. He is a brand ambassador for Samsung Norge and Hyperice.
He also features in the FIFA video game series, EA sports. As a well-known player and great striker, Erling has achieved a lot of prominent honors and trophies. In fact, he has a market value of $183 million as of June 2022. He owns some properties, namely a house in Nagueles, Spain, and Cars, including Audi RS7, Mercedes Benz, BMW, and Audi Q7.
Erling Haaland Biography
Erling Haaland was born on 21st July 2000 in Leeds, West Yorkshire, England. His parents are Alfie Haaland and Gry Marita Braut. He was born into a family of three and is the last child. He grew up with his siblings and had always had an enthusiasm for sports from an early age. He showed interest in sports activities such as football, golf, handball, and athletics.
His family was quite the sporting type, as his parents were active in athletics. He started his football career in a local football team known as Bryne Fk. At the age of six, he had already made the decision to focus on football. As a kid, he had an impressive record as a footballer, as he scored the most goals and did the most exercise.
Erling later joined the higher team in Bryne and was soon known for his amazing shots and impressive finishing skills. He later joined the Norwegian National Youth team. In 2018 he joined Red Bull Salzburg and moved to Borussia Dortmund in 2019. His skills kept on improving, and he recorded 27 goals in 28 games during the 2020-21 Bundesliga season.
In 2022, he was transferred to Manchester City 2022 for £51m. He gained more recognition playing in Manchester City, not just because of the club's prominence, but because of his impressive football skills. Haaland also played for Norway's national football team, as he was part of the under_17 that won the Syrenka 2016.
Related Posts:
Erling Haaland Achievements
Some of Erling Haaland's achievements include:
2021 Bundesliga Player of the season
2020 Golden Boy awards
2022 FIFA FIIFPro World XI
2021 and 2022 Best Norwegian male Footballer of the Year.
Erling Haaland Highlights
Watch the video below to see the best of Erling Haaland.
Conclusion
Erling Haaland is one of the most sought-after footballers in the European football league. Though he started at a very young age, he has successfully built himself an impressive football career. We've considered some essentials information about Erling Haaland, including his Biography, net worth, goals, and statistics.
For more sports Updates, kindly visit Dailygram.com.
Last Updated 1 year by