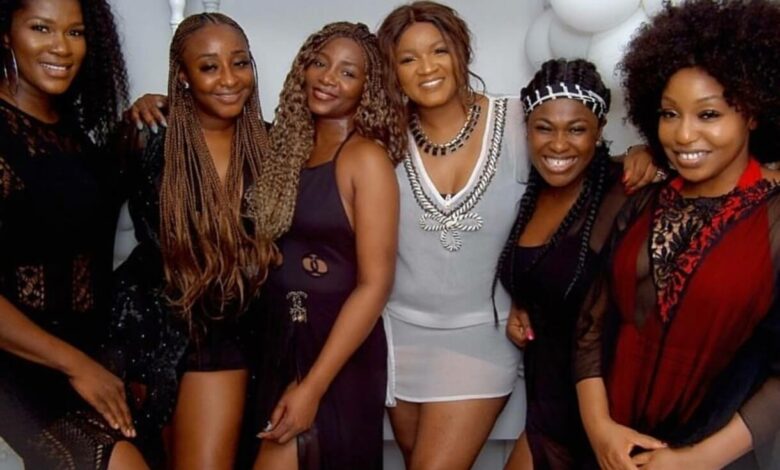 Do you want to know the women that have made it in the movie industry? This article highlights the top 10 richest actresses in Nigeria.
Top 10 Richest Actresses In Nigeria
1. Genevieve Nnaji
With an estimated net worth of $12 million, Genevieve Nnaji is regarded as the richest actress in Nigeria. She is the first performer to win Best Actress in a Leading Role in 2005. She is not only an actress but also a producer and a director.
She received a Member of the Order of the Federal Republic award from the Nigerian government in 2011 for her work in Nollywood.
Her first film as a filmmaker, Lionheart, is both the first Nigerian film to air on Netflix and the first to be nominated for an Oscar. Nnaji has received numerous honors.
2. Ibinabo Fiberesima
Ibinabo Fiberesima is a former beauty pageant contestant, event manager, and actress from Nigeria. She served as the Actors Guild of Nigeria's previous president. She ranks as the second-richest actress in Nollywood with  an estimated $8 million net worth. She has been in numerous well-known films, including Pastor's Wife, A Night In The Philippines, Mortal Sin, St. Mary, The Twin Sword, Ladies Night, The Limit, Letters to a Stranger, '76, and many more. She has placed first or second in certain beauty pageants and won a number of them.
3. Funke Akindele
Funke Akindele, 44, one of the top 10 richest actresses in Nigeria, gained renown for her major part in "Jenifa's Diary." Her estimated net worth is $7.6 million.
Actress, producer, and politician Funke Akindele, made her acting debut in the 1998–2002 season of the sponsored sitcom Need to Know.
Additionally, in 2016 and 2009, she was honored with the African Magic Viewer's Choice Awards and the African Movie Academy Award for Best Actress in a Leading Role.
4. Omotola Jalade-Ekeinde
Omotola has been a professional actress for over 20 years. She is well known both within and outside of Nigeria. She is known to as a curvaceous actress due to her figure and beauty. Omotola is married to a skilled pilot. Omotola Jalade-Ekeinde represents a number of Nigerian businesses as well as a number of international organizations as a brand ambassador. Omotola Jalade-Ekeinde has a net worth of $7.2 million.
5. Rita Dominic
Rita Nkem Uchenna Dominic Nwaturuocha is a television personality, investor, producer, Audrey Silva Company co-founder, actress, and model. The incredibly gifted actress, born July 12, 1975, started acting when she was a little girl.
She is regarded as one of the best-paid and most hardworking actresses in Nollywood and one of the richest actresses in Nigeria with a $6 million net worth.
She currently serves as the CEO and GLO Ambassador for Rita Dominics Productions.
She is, however, a multiple award-winning actress who is also one of Nigeria's most prominent actresses. 2012's Best Actress in a Leading Role award went to Rita Dominic.
6. Chioma Chukwuka
Chioma Chukwuka is a Nigerian actress, director, and producer. She won the 2007 Africa Movie Academy Award for "Best Actress in a Leading Role" for her performance in the movie "Sins of the flesh" The Afro Hollywood Award for "Best Actress in a Leading Role" was given to her in 2010. Chioma is one of the most rich and well-known actresses in the Nigerian and Nollywood film industries, with an estimated net worth of 5.7 million dollars. She is currently married to Franklin Akpotha.
7. Mercy Johnson Okojie
After finishing secondary school, Mercy Johnson went on an audition and appeared in the film "The Maids." She has now appeared in countless Nollywood productions and is one of the highest-paid Nigerian Instagram superstars. She ranks as the seventh richest actress in Nigeria with an estimated net worth of $5 million.
Mercy Johnson has made numerous product endorsements, much like other famous people. She has endorsement agreements with companies including Pennek Nigeria Limited and Hollandia Evap Milk, among others.
8. Uche Jombo
Uche Jombo Rodriguez is a screenwriter, producer, and actor from Nigeria. She launched the GrandLux Cafe in Lekki on November 30, 2018, along with other celebrities including Omoni Oboli and Laura Ikeji. Currently one of the richest and most influential actresses in Nigeria, Uche Jombo has a $4 million estimated net worth and just landed a multi-million Naira endorsement contract with a telecommunications behemoth.
9. Regina Daniels
Regina Daniels is an actress and flim director. Despite being young, the movie star has had an impact on the movie industry.
She is undoubtedly one of the newest and richest Nollywood actresses with a net worth of $4 million. Since the age of seven, she has worked in the film industry. She is one of the most popular celebrities online, the actress has 6.4 million Instagram followers.
10. Ini Edo
Ini Edo is one of the wealthiest actresses and top 10 most attractive Nigerian celebs. She is a Nigerian actress who made her acting debut in the 2003 film Thich Madam.
Her big break in the film business occurred after she co-starred in the film World Apart with renowned actor Kenneth Okonkwo.
People always assume that Ini Edo, who has an estimated net worth of $3.9 million, is a bomb because of her slender figure. Her curvaceous physique was on display across all social media channels, which was hot. She is one of the well-liked Nigerian celebs.
Frequently Asked Question
Who Are The Richest Actress In 2022?
Genevieve Nnaji Net worth $12M
Among the top 5 richest actresses in Nigeria, award-winning Genevieve Nnaji is the richest actress and one of the best paid in 2022.
Who Is The Richest Actor In 2022?
Jerry Seinfeld is the richest actor in the world as of August 2022, with a $950 million net worth.
Conclusion
These are the top 10 richest actresses in Nigeria. These woman (expect No. 9) have been in the movie industry for a long time. Though dedication, passion and hard work, they have made millions from acting.