How to Become
How to become a customer service executive in a well-paying company
Steps to Becoming a Good Customer Service Executive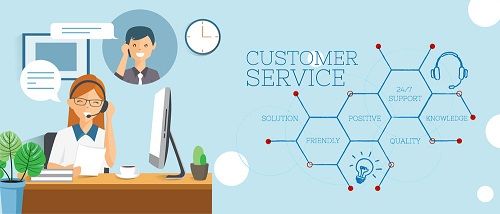 Students would rather pursue MBA courses to become good customer service executives abroad. Countries like the USA, Australia, UK and Canada, etc. offer various PG Diploma and PG courses for the aspirants. The procedures for student admission differ from country to country as well as eligibility requirements.
Nonetheless,
Who is a Customer Service Executive?
A Customer Service Executive directs a team of customer support representatives and sustains customer satisfaction in an organization. Such a person functions to make certain that customers of a business receive credible support and their needs are met for the organization's benefit. 
They keep an eye on the daily functions of the customer support department, establishing standards and protocols to be used by the customer service team to promote customer utility.
Before we continue you can check out this posts that might have been missed
Primary Responsibilities of a Good Customer Service Executive
Responsible for creating policies and strategies for their staff, making certain customers receive excellent service consistently.

The Customer Service Executive is in charge of recruitment and training of new staff. This role may include assessing applications, conducting interviews, and on the job training to new employees, etc. 

Makes certain all personnel follow company best practices.

It is the duty of this person to step in and attempt to satisfy a customer, when a customer service agent is not able to.

There may also be the duty to answer customer questions in-person, through phone call, email and social media interactions.
Steps to Becoming a Good Customer Service Executive
Students must be intentional with their school level to become good customer service executives. They should work on their communication skills and practice mathematics regularly. Other steps include:
One must align his/her own interests with the decision to become a Customer Service Executive, and begin to make enquiries as to the best courses involved at school level. It is also important to research the pros and cons of this role in advance.
Usually, a person from any background or field can choose to become a Customer Service Executive. Having a knowledge of computer applications will also help as most of the work these days is done online. 
Students will need to prepare themselves to get admission in the undergraduate and postgraduate courses. They must study topics for the intermediate level at the undergraduate level. Students opting for MBA courses will also need to pass exams like CAT, XAT, MAT and many others.
Good colleges at Undergraduate and Postgraduate levels help students excel in the field. Students can research about the colleges and evaluate them based on previous records, fees, location and a few other details.
Different Types of Customer Service Executive
Phone Customer Service
This is easily the most chosen job profile in the customer service arena. The direct conversation with the customer via voice makes interaction more meaningful than just sending text messages or emails.
Social Media Support Executive
In a world where everyone uses social media, a customer support team is dedicated to rectifying social media queries. A social media monitoring software notifies the personnel when the business or product is mentioned online.
Email Support Executive
This person leads a support team responsible for responding to customers queries. Email support executives give people a way to contact the customer support team without the need for direct interaction with another human.
Live Chat Support Executive
These executives are responsible for communicating with customers through live chat or email to respond to questions and queries asked via chat bot on websites. Work can be executed remotely or in a standard office environment. You can checke out the Best Live Chat Software for Small Business Here
Becoming a Good Customer Service Executive is not usually the best bet of every student, but after a bit of research, one can find many advantages of this job role. 
Students that want to become Customer Service Equipment must have proper knowledge of the details of the entrance exams for the course.
Last Updated 1 year by