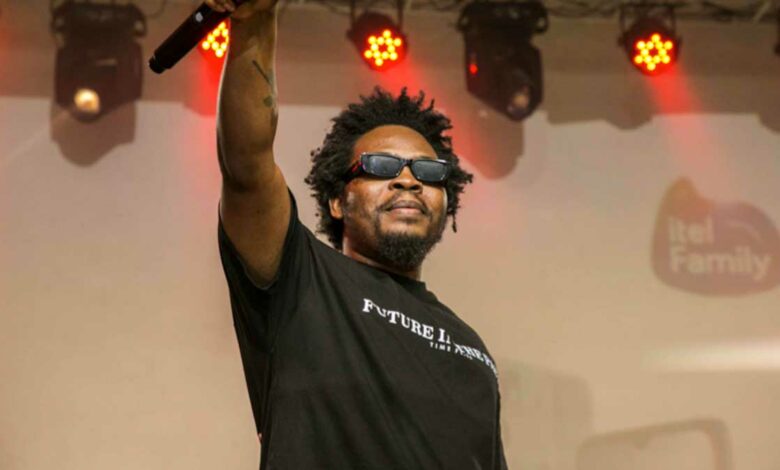 Nigeria is one of the top-producing countries in music industry. However, there are some Nigerian rappers who are fortunate enough to find their way on the international scene, with their unique styles and talent winning them a worldwide following. Find out about the Top 10 Nigerian rappers in Nigeria music industry who have found success abroad!
Top 10 Rappers In Nigeria Music Industry
The Nigerian music industry is one of the most popular in Africa and internationally. The industry has been growing rapidly and many new rappers are emerging every year. Here are the top rappers in Nigeria music industry
#1. OLAMIDE
Olamide is a rap artiste, also known as "Badoo". He is a songwriter and producer from Nigeria. He has released two studio albums and several singles. His latest album, "Capier Derm" was released in 202.
Olamide fully known as Olamide Adedeji was born on March 15th, 1989. He is known for his socially conscious lyrics. He is one of the best rapper who uses his local language, Yoruba to rap. He has also collaborated with several major Nigerian recording artists including Wizkid, Tiwa Savage and P-Square.
Olamide is one of the most popular rappers in Nigeria and his music continues to be played on radio stations across the country.
#2. M.I
M.I is a popular rapper from Nigeria who rose to prominence in the early 2010s. He has released several successful albums, and his music is often described as streetwise and insurgent.
M.I was born in Kaduna in 1981, and he began rapping at the age of 15. After releasing a series of underground mixtapes, he achieved mainstream success with his debut album, Chairman (2015). His subsequent albums have all been critically acclaimed, and he has won numerous awards including MTV Africa Music Awards and Nigeria Entertainment Awards.
#3. PHYNO
Phyno is one of the most popular rappers in Nigeria music industry. He has released several hit songs and gained a lot of followers over the years.
Afrobeat kingpin Phyno is easily one of the most in-demand rappers in Nigeria today, with a loyal following that spans across multiple demographics and age groups. With catchy hooks and an easy going flow, Phyno's music speaks to the hearts and minds of his fans everywhere he goes.
His ever-growing fanbase can be attributed to his energetic performance style and catchy lyrics that touch on a variety of socio-political issues unique to Nigerian culture and life. With songs like Connect, Oringo, and Nnene, Phyno has carved out his own niche in the Nigerian music industry, blending Afrobeat with mainstream pop elements for an approachable sound that fans love.
#4. REMINISCE
He recently entered the rap scene. But his creations are already causing a stir. His work's quality makes one think he's been around for a very long time. He is frequently compared to Da Grin.
Rappers who use the Yoruba language include Olamide. Along with the many singles he has released, he has worked with a ton of other rappers over the years. They include people like Chinko Ekun, Ola Dips, CDQ, Lil Kesh, and others.
His work demonstrates how committed he is to being a rapper. His third album, Baba Hafusa, was an enormous hit. This album appeared on the iTunes chart for a number of weeks. He recently collaborated on a song with WALE, an internal star.
#5. ILLBISS
Illbiss is deserving of being the fifth-best rapper from Nigeria. His fans adore his works, which are impressive. His flow is one of the things that entices his listeners to want more of his raps. His hit singles have been in heavy rotation ever since their release, and three of his albums are currently on the market.
Illbiss stands out in the minds of hi8s fans thanks to his impressive and exciting punchlines. Outside of Africa, people are familiar with his rap music.
#6. FALZ
Falz is a Nigerian rapper and songwriter. He rose to prominence in 2014 with the release of his debut album, Wazup Guy. Falz has since released lots of albums. Falz has performed at numerous major music festivals across Europe, North America and Africa, including Lollapalooza, Coachella Valley Music and Arts Festival, Sasquatch! Music Festival and Voodoo Experience.
Falz is well-known for his amusing Instagram videos that make people laugh out loud. Some of his fans think he should stop rapping and instead pursue a career in comedy. Regardless, he is a top-tier and highly talented Nigerian rapper deserving of sixth place.
#7. YUNG6IX
King of the South is how he typically introduces himself. One look at his music and it's clear he has his sights set on becoming the rap industry's Southern king. This emcee has a reputation for being very committed to his craft. His hometown in Delta State, Nigeria is Warri.
Over the years, he had released a number of singles. He also has a full-length album out. The name of one of his smash hits, Blessing, is apt. The aforementioned album featured a guest appearance by Oritse Femi. This made the song that much more appealing.
You may also like;
#8. VECTOR
Nigerian rap, more popularly known as "vector" music, is a rapidly growing genre of hip hop that heavily relies on synthesized beats and intricate lyrics. Some of Nigeria's top rappers include Dede Cinq, YBNL, Tekno and E-40. Vector has emerged as one of the most popular music styles in Nigeria in recent years, with artists such as Wizkid and Tiwa Savage becoming internationally renown for their unique sound.
Vector music is often described as an electronic music genre that incorporates elements of pop and R&B. Its main focus is on catchy hooks and danceable beats, making it perfect for parties and club settings. While some critics argue that vector lacks substance, others say its upbeat style makes it ideal for listening on lazy summer days. Whatever your opinion may be, there's no doubt that vector is quickly gaining popularity across Nigeria and beyond.
In Nigeria, he is recognized as an official of the American Jayz. Because his voice sounds a lot like that of a popular American rapper. Undeniably credible, he has worked with a wide variety of Nigerian rappers.
To this day, Vector remains one of Nigeria's most recognized brands. I think he should be in the top ten of Nigerian rappers, not just the eighth best. His future is bright, that's for sure. King Kong, a song he co-created with Reminisce, was the 2016 Headies Award winner for Best Collaboration.
#9. JESSE JAGZ
In my opinion, Jesse is the ninth best rapper in Nigeria. It turns out that he's actually M.I. Abaga's sibling. They worked together to found one of Nigeria's most successful record labels, Chocolate City. Jesse had left the label before returning.
His many successful singles have made him a fan favorite among rap listeners in Nigeria and beyond. Jesses had made cameos on a few of his sibling's songs. He was also featured on a few songs by Ice Prince. There's no doubt that he will become a household name in the coming years thanks to his reggae singing.
#10. NAETO C
On our list of the top 10 rappers in Nigeria, Naeto C is the tenth. One song that gave him that fame was Ten Over Ten. The song had become so popular that nearly every Nigerian was singing it. He has a wonderful family life as a married man with two kids.
Since the above-mentioned song, he has not been linked to the release of any additional music. A few people think he's putting together a hit record. His devoted following is crossing their fingers that he will soon drop some new music.
Frequently Asked Questions on The Top 10 Rappers In Nigeria Music Industry
Who is Nigerian best rapper 2022?
The Nigerian rap scene is heating up and it's not hard to see why. With M.I known as Mr Incredible always giving his fans what they want.
Who is the top 10 rapper?
This article already listed out the top 10 rappers in Nigeria. They include;
#1. OLAMIDE
#2. M.I
#3. PHYNO
#4. REMINISCE
#5. ILLBISS
#6. FALZ
#7. YUNG6IX
#8. VECTOR
#9. JESSE JAGZ
#10. NAETO C
Who is best rapper in 2022?
There is no definitive answer to this question as the best rapper in Nigeria music industry will vary depending on personal taste. However, some of the most popular and well-respected rappers in the country today include Olamide, M.I, Vector, Phyno, etc.
Conclusion
There's no doubt that the Nigerian music industry is booming right now, and with good reason! With so many talented artists out there, it can be hard to decide who to listen to. That's where this list comes in handy. We've compiled a list of the top 10 rappers in Nigeria and based on their popularity, quality of music, and other factors, we think they're worth your time. So what are you waiting for? Start listening to some of these amazing musicians today!
Last Updated 1 year by